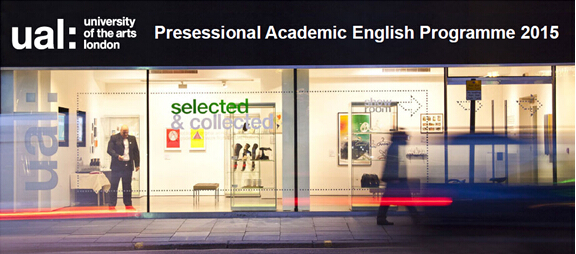 Presessional: A Different Kind of Preparation Course

Get the best preparation possible for your University course by improving your English, learning about British culture and starting to experience life at University of the Arts London (UAL). The Presessional Academic English Programme (Presessional) is run by the University of the Arts London's Language Centre. Successful completion of the course means that you can progress to your main University course without having to take another external English language test. You will need to pass all of your assessments on Presessional in order to successfully pass the course and advance to your main studies at UAL.
Presessional is not an IELTS course. Although Presessional and IELTS courses both have final assessments which test students on speaking, listening, reading and writing skills, Presessional also focuses on preparing students for their University studies. IELTS courses only focus on preparing for a general exam in English
Prepare for University
• Learn the language and skills you will need for your studies from experienced teachers with knowledge of language specific to the field of art, design, fashion and communication studies at University level
• Start using University facilities, such as the libraries, cafes, galleries and virtual learning environment
• Visit UAL Colleges to see degree shows and exhibitions
• Listen to talks from academics and external experts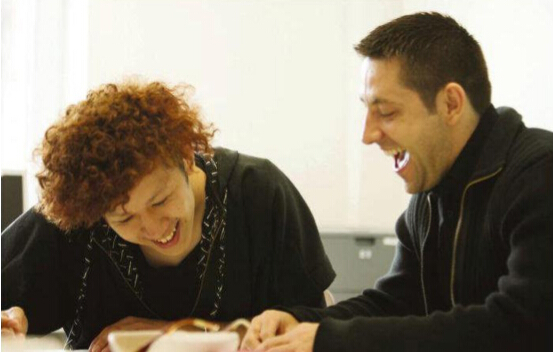 Prepare for London
• Discover more about the city through visits to galleries, Art and Design projects and social events
• Find out where to eat and where to shop
Prepare for Life
• Learn about life and Higher Education culture in the UK
• Develop your social English and general confidence
• Build a new network of friends
• Get information and help with visas, opening a bank account, health services and accommodation
2015 Dates & Details
Students with a Conditional Offer:
Block One: 3rd June – 2nd September (13 weeks) £4150
Block Two: 1st July – 2nd September (9 weeks) £2880
Students with an Unconditional Offer:
30th July – 2nd September (4 weeks + 3 days)
Class Size: Typically 18-20 students
Location: Camberwell College of Arts
Timetable: Monday to Friday, 4 hours
daytime tuition per day.
Please note that your class may be in the morning or afternoon. You should not make other commitments, including accepting work, until you start the programme and know your timetable.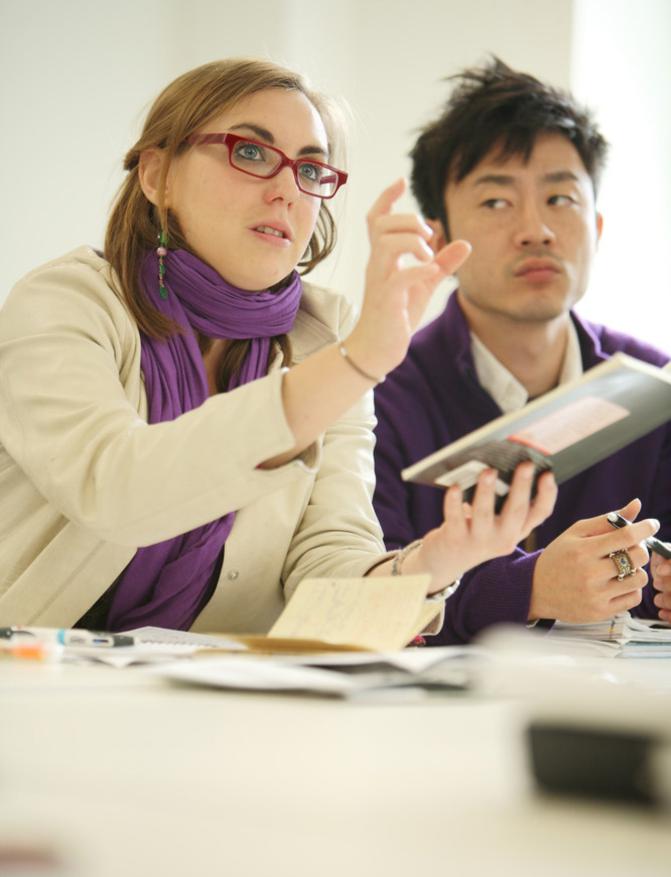 Who can take Presessional?
We welcome all students with a University of the Arts London main course offer. However, you will not be able to attend Presessional if you are in one of the following groups:
• Students with offers for FE courses (Foundation, Access, ISF)
• Undergraduate or Postgraduate course students with a current IELTS (or equivalent) score below the Presessional entry requirement
• Students who need to enrol on an Orientation course (as these courses run at the same time as Presessional)
If you are in any of the above groups, please contact the Language Centre for information on alternative English courses that prepare you for tests (such as IELTS) acceptable for direct entry to your main University course.
You can find Language Centre test preparation course information:
• on the website: www.arts.ac.uk/languagecentre
Programme Content
The Presessional course is designed to give you the language and skills you need to participate in higher education at University of the Arts London and focuses on the disciplines of Art, Design and Communication. The tuition fee includes the cost of the course materials, which are specially designed for Presessional.
The programme covers:
1. Language development and level improvement.
2. Academic skills development: for example research and referencing, critical thinking, reflective writing, note-taking and talking about your work.
3. Development of approaches to succeeding in the UK higher education system.
4. Orientation to the University environment and facilities.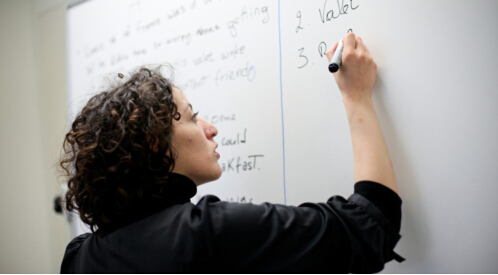 The weeks are organised according to topics and may include:
• Academic integrity
• Art quarters of London
• Culture Shock
• Identity
• Multiculturalism and diversity
• Visual Culture and representation
• Sustainability
• London project: where students think about the city in the context of their own Art, Design or Communications work
Assessment
Assessment tasks are based on the skills you will need on your main course and will help you prepare for your University studies. You will need to pass all of your assessments to progress to your main University course. Your coursework will be assessed by a team of tutors, the Course Leader and a Progression Board.
Assessments include:
• An exhibition review
• Group discussions
• Reading skills
• Assignments
• Listening skills
• Note-taking skills
• Timed writings
• Presentation skills
During Presessional there will be a number of lectures given by visiting speakers and you will have the opportunity to ask questions that will help you with your assignment research. You will be given tutorials to discuss your progress, looking at your strengths and also areas that need more work.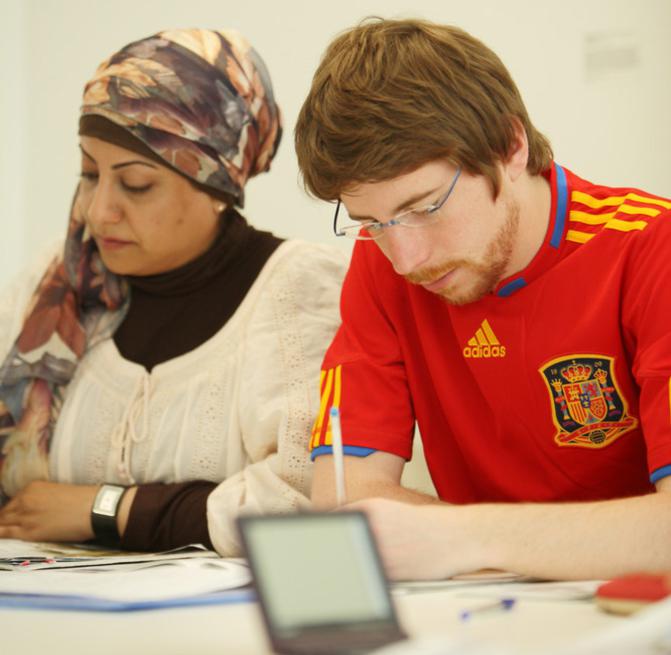 Attendance
Your attendance on the course is very important. Attendance is monitored and if you do not attend at least 90% of the programme you will not be able to progress directly onto your main University course and, if you have a Tier 4 General Student Visa, you risk having your visa curtailed. You will not be able to take a holiday during your Presessional course.
Students with Conditional Offers
If you are a student with a conditional offer, you must join the Presessional course at the appropriate entry point for your current English score and the score required for your main University course. See grid below:
University main course
entry requirement
(IELTS)
Presessional entry requirement – Block 1
IELTS Academic
Overall
Each Skill
7.0
6.0
5.5
6.5
5.5
5.0
6.0
5.0
4.5
5.5
4.5
4.0
University main course
entry requirement
(IELTS)
Presessional entry requirement – Block 2
IELTS Academic
Overall
Each Skill
7.0
6.5
5.5
6.5
6.0
5.0
6.0
5.5
5.0
5.5
5.0
4.5
Please note: Students who have achieved their overall University main course entry requirement, but who are maximum 1.5 bands below the requirement in ONE of the four skills may be able join Block 2.
Students with Unconditional Offers
If you are a student with an unconditional offer, you can attend a special 4-week Presessional starting in late July (please see the booking form for further information).
The following students can take this course but will need to extend their visa before their main University course:
• Foundation Degree (FdA) students
• Certificate in Higher Education (IPF) students
• Students who have a gap of more than one month between the end of Presessional (2nd September 2015) and the start date of their main University course
Entry Test Arrangements
You must arrange to have a test before you arrive at the University. If you require a Tier 4 visa, this must be a test on the UK Home Office list of approved tests. Please see link below for more information:
https://www.gov.uk/government/publications/guidance-on-applying-for-uk-visa-approved-english-language-tests
See www.ielts.org for details of accredited IELTS test centres worldwide.
We strongly advise you to take your test as soon as possible to allow enough time for test results and visa applications.
Other internationally recognised certificates may be accepted if you will not be studying Presessional under a Tier 4 visa.
Useful Pre-Course Information
Please have a look at the Commonplace website for useful information about living in London and advice from students already studying at University of the Arts London: http://commonplace.arts.ac.uk
There will be regular updates on this site with information about accommodation, eating out, social activities and tips to make your stay more productive and enjoyable. Have a general look or do a specific search for Presessional.
For further information please contact us. 如需了解詳情,請聯系我們。
We look forward to welcoming you to University of the Arts London!